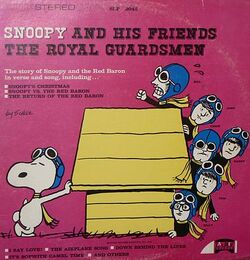 The Royal Guardsmen are a rock band from Ocala, Florida, a sextet originally composed of Bill Balough (bass), John Burdett (drums), Chris Nunley (vocals), Tom Richards (guitar), Billy Taylor (organ), and Barry Winslow (vocals/guitar). Tom Richards died in 1979 and Pat Waddell became lead guitarist. Rick Cosner has been the alternate drummer since 2006, substituting for John Burdett as needed. The current band performs regularly around the United States. Originally known as the Posmen, the band adopted their anglophile moniker during the British Invasion, led by The Beatles and other British artists. They achieved fame with their second (vinyl) single, "Snoopy Vs. The Red Baron" in 1966, which was also the title of their first album the same year. It soon reached #2 in the U.S. Billboard Hot 100, remaining in the bestsellers for 12 weeks, with an eventual one million sale in early 1967 and a gold record from the R.I.A.A. in February 1967.
Snoopy, the Red Baron, and aircraft became a recurring theme in their songs, though they did have some chart singles without those themes, including "Any Wednesday", "I Say Love", and the Top 40 hit "Baby Let's Wait", a re-release of their first single.
The original group split in 1969, but a band with some replacement players continued for another year. Two compilation albums and the original albums (doubled up) have been released on compact disc.
The Royal Guardsmen made a comeback in December 2006, when they released a new Snoopy song, "Snoopy vs. Osama", which became a hit on The Dr. Demento Show.
Discography
Snoopy Vs. The Red Baron album and single (1966)
Return of the Red Baron album and single (1967)
Snoopy And His Friends album (1967)
"Airplane Song (My Airplane)" single (1967)
"Any Wednesday" single (1967)
"Snoopy's Christmas" / "It Kinda Looks Like Christmas" single (1967)
"I Say Love" single (1968)
Snoopy For President album and single (summer 1968) (summer 1976)
"Baby Let's Wait" single (winter 1968-1969)
Merry Snoopy's Christmas album (winter 1980)
Anthology CD album (April 1995)
Best of The Royal Guardsmen CD album (May 1998)
Snoopy Vs. The Red Baron / Snoopy & His Friends CD album (June 2001)
Return of the Red Baron / Snoopy for President CD album (June 2001)
"Snoopy vs. Osama" single (2006)
External links
Community content is available under
CC-BY-SA
unless otherwise noted.