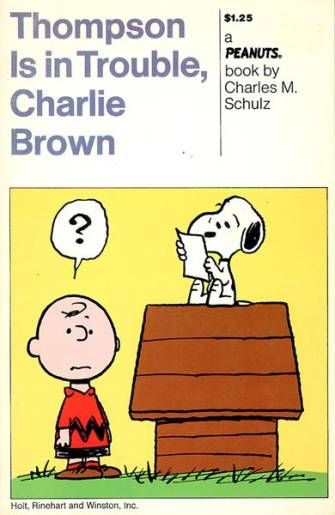 Thompson is an unseen beagle character in the Peanuts comic strip by Charles M. Schulz. The character is referred to in a storyline that originally ran between October 4 and October 14, 1972.
In the strip from October 4, 1972, the Head Beagle sends a letter to Snoopy, in coded "paw". In the strip from the following day, Snoopy deciphers the message, reads "Thompson is in trouble" and yells "That stupid Thompson!" Charlie Brown replies by saying, "Who is Thompson?" Apparently, this is not the first time Thompson had gotten in trouble, because Snoopy says "last time this happened, he almost got us all killed."
Having put on a fake mustache, Snoopy leaves to find Thompson. A waitress in a restaurant "full of shady types" recognizes Thompson from his description and tells Snoopy that she saw Thompson head north of town. In the strip from October 12, 1972, Snoopy sees Thompson but is only able to say, "Too late!" and "Poor Thompson!"
In the following day's strip, Snoopy writes a report to the Head Beagle, in which he identifies Thompson as "our beagle in the field". Snoopy describes Thompson's fate thusly: "Subject attempted to subdue ten thousand rabbits by himself. End came quickly. Rabbit-tat-tat and it was all over."