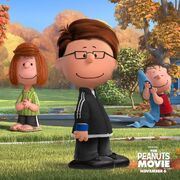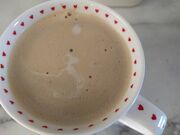 I'm no one special. See my Wikipedia user page.
Proposed standards
Template for characters
Please see this example for how to make an article on a Peanuts character.
Canonicity
If something occured in the strip itself, it is considered to be true in terms of the Peanuts universe. In the event that two facts contradict one another, the one that is mentioned most frequently is considered true. If both are mentioned the same amount of times, the one mentioned most recently is true. Facts in other media are considered true until it contradicts the strip.
Books
Complete Peanuts HC Vol 1/26
Complete Peanuts SC Vol 1/26
Peanuts Every Sunday 1/10
Charlie Brown Christmas Stocking
Waiting for the Great Pumpkin
Snoopy's Thanksgiving
A Valentine for Charlie Brown
Snoopy Vs. the Red Baron
Batter Up, Charlie Brown!
To fix
Languages
Bulgarian
Catalan
Chinese
Czech
Danish
Dutch
English
Finnish
French
German
Greek
Hebrew
Hungarian
Icelandic
Italian
Japanese
Korean
Latin
Norwegian
Polish
Portuguese
Russian
Spanish
Swedish
Thai
Turkish
Welsh
All international editions retain the artwork, layout, and format of the original American version (though some of the German volumes feature the original introductions, such as those by Matt Groening and Whoopi Goldberg, while others feature new ones by Germans such as Robert Gernhardt):
Canongate Books started publication of a UK edition of the series in October 2007, with eighteen volumes published as of February 2015, with Volume 5 featuring a different introduction from the US edition, by Russell T Davies.
Carlsen Comics began publication of a German edition of The Complete Peanuts in October 2006, under the title Peanuts Werkausgabe, with the fifteenth and sixteenth to be released in February and September 2013.
The Portuguese release of Peanuts – Obra Completa by Edições Afrontamento published the first two volumes in 2006, with the sixth released in 2011. There is no schedule for the publication of the next volumes.
Dargaud started publishing The Complete Peanuts in France, under the title Snoopy – Intégrales, in November 2005. To date, thirteen volumes have been published.
in Poland, Nasza Księgarnia began publishing the collected edition in 2008, under the title Fistaszki zebrane, with nine volumes released so far.
In Spain, Planeta DeAgostini is the publisher of Snoopy y Carlitos, with nine volumes published to date.
In Brazil, L&PM Editores started publication in November 2009, under the title Peanuts Completo. Seven volumes have been released so far.
In Italy, Panini Comics started publication in April 2005, maintaining the original title The Complete Peanuts. To date, twenty volumes have been published.
Strips
peanuts
pogo
foxtrot
far side
calvin and hobbes
bloom county/outland/opus
little nemo in slumberland
krazy kat
doonesbury
marmaduke
dennis the menace
hi and lois
hagar the horrible
wizard of id
beetle bailey
family circus
mutts
boondoocks
zippy
garfield
dilbert
nancy
katzenjammer kids
little orphan annie
mutt and jeff
non sequitur
ziggy
lil abner
for better or for worse
gasoline alley
barnaby
dick tracy
phantom
prince valiant
Comic Strip Classics
The Yellow Kid
The Katzenjammer Kids
Little Nemo in Slumberland
Bringing Up Father
Krazy Kat
Rube Goldberg's Inventions
Toonerville Folks
Gasoline Alley
Barney Google
Little Orphan Annie
Popeye
Blondie
Dick Tracy
Alley Oop
Nancy
Flash Gordon
Li'l Abner
Terry and the Pirates
Prince Valiant
Brenda Starr
ASCII art

ϲ( ´•̲ϲ̲̃ ̲̃•` )ɔ

(● ́_̡̀ (▼)

>̀ˇˇ⊃

↾ •ϲ̲̃ • ↿ or ↾•⚛•1


Community content is available under
CC-BY-SA
unless otherwise noted.