What a Nightmare, Charlie Brown is the seventeenth Peanuts TV special. It was originally aired on Thursday, February 23, 1978, at 8:00 P.M. on CBS.
Plot
The opening credits show a winter snowfall and Charlie Brown gets his sleigh out of storage, only for the sleigh to roll downhill and hit a pile of snow, causing Charlie to give his usual remark of "Good grief!"
Charlie Brown is then pretending to be a musher with Snoopy, but Snoopy refuses to pull the sled. Charlie Brown angrily remarks that dogs in the Arctic are workers, not pampered pets. Charlie Brown decides to demonstrate how to run, while Snoopy rides. Snoopy takes advantage of this to make Charlie Brown pull the sled! When they arrive back home, Charlie Brown is too tired to play anymore, so Snoopy goes inside. He makes himself a fancy dinner with five pizzas and milkshakes. Charlie Brown comes in and tells Snoopy that Arctic dogs are only fed once a day and that their meals largely consist of cold meat and raw fish (to which Snoopy blanches and gives a look of "it is too bad to be them"). Charlie Brown concludes that Snoopy is "an overly civilized" dog, and remarks he sure hopes Snoopy can handle that overeating, as undigested food often causes nightmares.
After dinner, Snoopy goes on top of his doghouse and falls asleep. While he is sleeping, the scene around him changes to an image of the Arctic. Snoopy wakes up to an owner of a pack of Arctic sled dogs whipping him. The owner makes him join the other dogs and makes them all run and pull him on his sled for a while. When they come to a resting point, the owner throws them raw meat, and all the dogs eat some, but when Snoopy goes near the meat, they bark at him to show him he is not allowed to have any. The dogs also take turns barking loudly at Snoopy to let him know he is indeed an outsider. That night, when Snoopy is cold, he tries to huddle with the other dogs for warmth, but they refuse to let him do that, too. Snoopy eventually builds himself a doghouse out of snow and sleeps on that instead.
The next day, Snoopy is treated no better. He is continually mistreated by the owner and other dogs. They deny him any food or water and he is forced to run all day. At one resting point, Snoopy becomes so hungry that he sneaks into a honky-tonk. Inside, he steals a sandwich and a mug of root beer. He then finds some coins and uses them to play poker. While playing poker, Snoopy keeps a very straight face and beats everyone by having the improbable five aces. Snoopy's win causes a brawl, making Snoopy escape into another room to hide.
In the next room, which has a backdrop of Paris painted on it, Snoopy finds himself on stage with a spotlight on himself. He does a softshoe dance to a song that plays and is applauded. However, when the next song is more lively, Snoopy impersonates a can-can dancer, causing the audience to boo him and start throwing food at him. Snoopy is thrown out of the bar and finds himself back with the sled dogs and forced to run again. Snoopy is continuously seen running and being denied food and water.
That night, Snoopy decides he cannot take it anymore of being harassed by the other sled dogs. He can hardly walk due to all the running he has done and the lack of food or water. He breaks down in tears and clearly wants to go home. He becomes so fed up, that he decides to do something about it. He bares his fangs, falls to walking on all fours, and challenges the Alpha Male of the sled dog pack to a fight. Snoopy beats him and becomes the new alpha male of the pack. He decides to take revenge on the other dogs. He barks at them very loudly denying them any food or water.
As Snoopy is leading the dogs around, he accidentally leads his owner and the other dogs over an ice-covered lake. The ice cracks and causes all the sled dogs and the owner to be swallowed into the water. Snoopy is being pulled into the lake but grabs onto the side begging for his life. The scene then changes to his own doghouse, with Snoopy holding onto his doghouse, then collapsing, causing him to awaken. He is relieved that it was all just a dream.
Snoopy runs into the house and Charlie Brown answers the door. Snoopy acts out his dream in pantomime, Charlie Brown looks at him like he is crazy for a moment, before letting him come inside for the rest of the night, saying, "Boy, that must've been some nightmare". Snoopy then makes himself an ice cream sundae. Afterward, he goes to bed next to Charlie Brown. Charlie Brown opens his eyes in dismay, then falls asleep.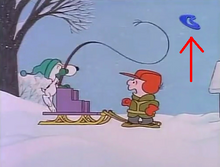 Voice cast
Notes
This special is unusual in that Snoopy and Charlie Brown are the only members of the Peanuts cast to appear in it. (The only other Peanuts special in which no child Peanuts characters apart from Charlie Brown appear is It's the Girl in the Red Truck, Charlie Brown.) There is also very little dialogue in What a Nightmare, Charlie Brown because only Charlie Brown's speech is intelligible. It is also notable that this was the first animated special that was done almost completely in pantomime.
This special is the second to not have any animation by Bill Littlejohn, making it feel more consistent. The first was Charlie Brown's All-Stars.
The plot is similar to that of Jack London's Call of the Wild. London spent almost a year in the Yukon, and his observations form much of the material for the book. As a result, this special was inspired by an article Charles M. Schulz read about husky dogs at the North Pole. He wondered what would happen if an overly civilized dog like Snoopy were suddenly forced to survive in the Arctic with sled dogs. Schulz may have also read the book and may have been used as another inspiration to create this special.
This was the first special Bill Melendez directed since 1973's A Charlie Brown Thanksgiving.
The owner of the Arctic dogs is shown only in shadow and talks in a much deeper "waa-waa-waa" voice than is usual for adults in the Peanuts TV specials.
Some comments on YouTube clips of the special have claimed that there is no way the special would air on TV today, because it shows animal cruelty and that dogfighting causes serious injuries. It is also claimed that child viewers could also develop nightmares after watching this special.
It has been seen that the sled dog master remains in silhouette when his team is swallowed by the frozen lake.
Snoopy developed what is called an Acid Reflux Nightmare, in which he ate a lot of pizza in one sitting before sleeping. In real life, eating five pizzas and a large milkshake will not make a good night's sleep.
Beagles are not ideal sled dogs, and the sled is clearly too heavy for Snoopy to pull, but Charlie Brown is anything but understanding here, just beginning to berate Snoopy and telling him horror stories about how working dogs live in the Arctic, which is of course what later leads to the titular nightmare. This is not entirely out of character, since Charlie Brown has often expected Snoopy to act more like a regular dog.
This is the final Peanuts animated special to use the famous "Linus and Lucy" theme until 1992.
This is the first Peanuts animated special to focus entirely on Snoopy.
After eating his ice cream sundae, Snoopy goes to bed without putting the ice cream back in the freezer, leaving it to melt all night.
Goofs
Snoopy makes only two pizzas, but when he returns to the oven there are four visible. When he puts them on a pile, there are six, but while he is being scolded by Charlie Brown, there are only five.
Snoopy puts chocolate syrup on his ice cream sundae even though chocolate makes dogs sick. However, as Charlie Brown has repeatedly remarked in various other specials, Snoopy is not a normal dog, so this would be incorrectly regarded as a goof, although here it does not apply due to cartoon logic.
The sled dog at the third harness part on the right side appears to be orange at the bottom and brown at the top. After Snoopy howls like a wolf, the fur of the sled dog turns beige while snarling at him. In the next shot, when the sled dogs are falling asleep, his fur turns back to orange. But when Snoopy sneaks up to the near-right sled dog trying to stay warm while sleeping, the sled dog's fur turns beige again.
During the dogfight scene, both Snoopy and the Alpha Male husky are biting and clawing at each other. They both should have been showing serious, visible injuries, but there is no blood seen and they both appear to be unharmed.
When the sled dogs in Snoopy's nightmare eat outside the root beer saloon, the sound of them eating starts before they are even eating.
When Snoopy goes to sleep on his snow doghouse in his nightmare, the wire to his harness is in the back of the doghouse, but in the morning before he wakes up, the wire is in front of the doghouse.
The sled dogs should not have drowned when the ice covering the lake cracked and they fell in. In real life, most dogs are really good swimmers.
While some of the details are accurate (such as the bone-deep drive and eagerness of true sled-dog breeds to work until they drop), some of Charlie Brown's claims and some of the events that occur during Snoopy's nightmare are inaccurate.

While there is little doubt that the brutally abusive tactics that are demonstrated in Snoopy's nightmare were used by some people, they're not only unnecessary but profoundly stupid. Beating, shouting at, and whipping dogs accomplishes one thing—creating a reactive, unstable dog that hates and fears you, which Snoopy and the sled dogs display during his nightmare. Steady, consistent, humane treatment will always produce better results, which is what Charlie Brown does during the other specials.
Wolf packs have no such thing as an "alpha" in the way they are portrayed in the special; instead, they are close-knit familial groups consisting of parents and several generations of that breeding pair's offspring, generally have very little internal conflict, and do not operate on a dominance-based system any animal could "take over" by force. For that matter, while dogs do form complicated social dynamics, they never operate in the clear-cut pecking order portrayed in the special.
Huskies are no more aggressive and have no more "wolf blood" than any other dog. In fact, they have been selectively bred to work in large groups of other dogs in a sled team and are therefore much less likely than other breeds to display the vicious, unstable behavior which is characterized in the special.
Sled dogs are not usually the angry guard dog archetype shown here. Most are quite friendly in real life.
Most Siberian Huskies, Malamutes, and other sled dogs are not fed once a day, nor do their meals mostly consist of cold meat and raw fish; in real life, they eat regular dog food as normal dogs do.
External links
Peanuts Animated Features
TV Specials
A Charlie Brown Christmas • Charlie Brown's All-Stars • It's the Great Pumpkin, Charlie Brown • You're in Love, Charlie Brown • He's Your Dog, Charlie Brown • It Was a Short Summer, Charlie Brown • Play It Again, Charlie Brown • You're Not Elected, Charlie Brown • There's No Time for Love, Charlie Brown • A Charlie Brown Thanksgiving • It's a Mystery, Charlie Brown • It's the Easter Beagle, Charlie Brown • Be My Valentine, Charlie Brown • You're a Good Sport, Charlie Brown • It's Arbor Day, Charlie Brown • It's Your First Kiss, Charlie Brown • What a Nightmare, Charlie Brown • You're the Greatest, Charlie Brown • She's a Good Skate, Charlie Brown • Life Is a Circus, Charlie Brown • It's Magic, Charlie Brown • Someday You'll Find Her, Charlie Brown • A Charlie Brown Celebration • Is This Goodbye, Charlie Brown? • It's an Adventure, Charlie Brown • What Have We Learned, Charlie Brown? • It's Flashbeagle, Charlie Brown • Snoopy's Getting Married, Charlie Brown • You're a Good Man, Charlie Brown • Happy New Year, Charlie Brown! • Snoopy!!! The Musical • It's the Girl in the Red Truck, Charlie Brown • Why, Charlie Brown, Why? • Snoopy's Reunion • It's Spring Training, Charlie Brown • It's Christmastime Again, Charlie Brown • You're in the Super Bowl, Charlie Brown • It Was My Best Birthday Ever, Charlie Brown • It's the Pied Piper, Charlie Brown • A Charlie Brown Valentine • Charlie Brown's Christmas Tales • Lucy Must Be Traded, Charlie Brown • I Want a Dog for Christmas, Charlie Brown • He's a Bully, Charlie Brown • Happiness Is a Warm Blanket, Charlie Brown • Snoopy Presents: For Auld Lang Syne • Snoopy Presents: It's the Small Things, Charlie Brown• Snoopy Presents: To Mom (and Dad), With Love • Snoopy Presents: Lucy's School
Movies
A Boy Named Charlie Brown • Snoopy, Come Home • Race for Your Life, Charlie Brown • Bon Voyage, Charlie Brown (And Don't Come Back!!) • The Peanuts Movie
The Charlie Brown and Snoopy Show
"Snoopy's Cat Fight" • "Snoopy: Team Manager" • "Linus and Lucy" • "Lucy vs. the World" • "Linus' Security Blanket" • "Snoopy: Man's Best Friend" • "Snoopy the Psychiatrist" • "You Can't Win, Charlie Brown" • "The Lost Ballpark" • "Snoopy's Football Career" • "Chaos in the Classroom" • "It's That Team Spirit, Charlie Brown" • "Lucy Loves Schroeder" • "Snoopy and the Giant" • "Snoopy's Brother Spike" • "Snoopy's Robot" • "Peppermint Patty's School Days" • "Sally's Sweet Babboo"
This Is America, Charlie Brown
"The Mayflower Voyagers" • "The Birth of the Constitution" • "The Wright Brothers at Kitty Hawk" • "The NASA Space Station" • "The Building of the Transcontinental Railroad" • "The Great Inventors" • "The Smithsonian and the Presidency" • "The Music and Heroes of America"
Snoopy in Space
"The Application" • "Training" • "The Graduation" • "Welcome to the ISS" • "I Never Promised You a Space Garden" • "Space Sleepwalking" • "The Journey on Orion" • "Crater Crash" • "Searching for Moon Rocks" • "You're a Good Moon, Charlie Brown" • "The Next Mission" • "Mars or Bust"
Others
Peanuts (2014 TV series) • Peanuts Motion Comics • The Snoopy Show