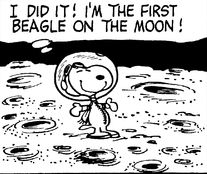 The World Famous Astronaut is one of Snoopy's alter-egos introduced to Peanuts comic strips on March 8, 1969.
This alter-ego is introduced in a series of strips in which Snoopy fantasizes that he is embarking on a mission to be the first beagle on the moon.  Like his World War I Flying Ace alter-ego, Snoopy is actually sitting on top of his doghouse.  Snoopy is even wearing the World War I Flying Ace's trademark flying helmet, pilot goggles and scarf.  The only difference is that he is also wearing a large glass astronaut helmet as well.
After fantasizing that he has set foot on the moon on March 14, 1969, Snoopy returns to Earth.  He notes that can be seen to be returning because he is now facing in the other direction.