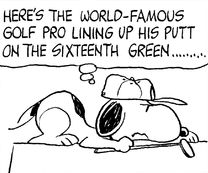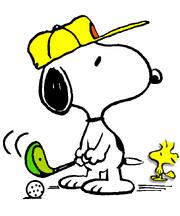 The World Famous Golf Pro is one of Snoopy's alter-egos introduced in Peanuts comic strips on April 8, 1968.
Wearing a cap and carrying a golf club, Snoopy imagines that he is playing at The Masters golf tournament in Augusta, Georgia.  Snoopy states that beagles are rarely invited to The Masters, and claims that such golf greats as Arnold Palmer and Sam Snead dislike playing with him because he can outdrive them.
Snoopy is followed around by a group of birds, who he refers to as "Snoopy's Squad."
In the strip from April 12, 1968, it is revealed that Snoopy's golfing fantasy is taking place on top of his doghouse.  The next day, when Charlie Brown wonders why he is not in Augusta, Snoopy reveals that he met a "cute little Georgia beagle."