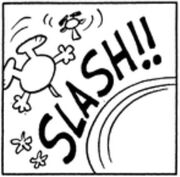 World War II, also known as "The Cat Next Door", is an unseen cat character in the Peanuts comic strip by Charles M. Schulz. The Cat Next Door is first mentioned in the strip from November 23, 1958 but is not given the name World War II until October 20, 1976.
He is an extremely vicious cat who terrorizes Snoopy and Woodstock. Whenever his rival Snoopy mocks the cat from across the yard, the cat slashes and Snoopy's doghouse or sometimes, Snoopy himself. Charlie Brown usually ends up having to buy another doghouse, as a result.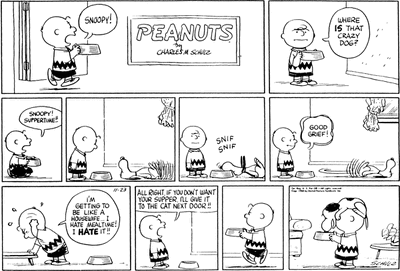 The cat clearly has considerable woodcarving skills and often has a weird sense of humor, that is seen when Snoopy insults him, causing him to slash odd-shaped holes in the doghouse. For instance, when Snoopy goads him by sarcastically asking why he missed his birthday, the cat slashes a hole shaped like a cake with candles.
Occasionally, Snoopy will attack the cat "off-stage" if someone (such as his friend Woodstock) is in mortal danger. However, Snoopy's attacks usually result in him looking beaten up or scratched when he reappears.
In a December 1974 storyline, Snoopy attempts to make friends with the cat in the spirit of the holiday season. He offers a handshake but is wearing a hockey glove—which the cat slashes to shreds. After having a "farewell dinner" for his hand, Snoopy attempts again without wearing a glove—and the cat responds by giving Snoopy a candy cane.
World War II's paw has been shown briefly in The Charlie Brown and Snoopy Show, in the short "Blanket" (in which Snoopy and Linus van Pelt try to retrieve Linus' security blanket from next door after Linus's friend Eudora gives it away to the cat) from the first-season episode "Snoopy's Cat Fight" and in the short "Snoopy's Foot" from the second-season episode "Snoopy and the Giant". His paw appears as orange in "Snoopy's Foot" but is white in "Blanket". However, having paws of different colors is possible for a cat.

Although never seen in the strip or in The Charlie Brown and Snoopy Show, it is likely that World War II is the same type of cat as Brutus from Race for Your Life, Charlie Brown and the cat that appeared in the TV special Someday You'll Find Her, Charlie Brown, given how vicious all three cats are toward the Peanuts gang in their appearances.