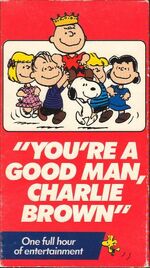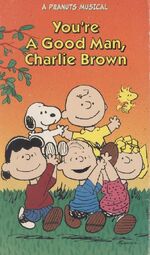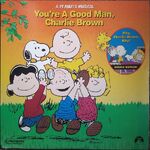 You're a Good Man, Charlie Brown is the twenty-ninth animated television special based on Charles M. Schulz's Peanuts comic strip. It first aired on CBS on November 6, 1985. It is based on the 1967 stage musical of the same name. It is the second television adaptation of the musical, a live-action production of it having aired as an episode of Hallmark Hall of Fame in 1973.
The 1985 special You're a Good Man, Charlie Brown is notable for being the first Peanuts animated cartoon in which Snoopy's thoughts are expressed as comprehensible English speech.
Contents of the program
You're a Good Man, Charlie Brown takes the form of a series of vignettes, without a unifying plot. The program appears to follow a typical day in the life of Charlie Brown, although the same day includes exchanging Valentine's Day cards and the baseball season.
Songs
Differences from the stage musical
The running time of the animated cartoon is shorter than that of the stage musical version of You're a Good Man, Charlie Brown and the number of songs is reduced accordingly. The songs "My Blanket and Me", "The Doctor Is In", "The Red Baron", and "Peanuts Potpourri" were cut out of the TV special. Although "My Blanket and Me" and "The Doctor Is In" can be heard instrumentally during the Valentine's Day scene and the lunchtime scene respectively.
Patty was one of the featured characters in the original 1967 stage performance of the musical. By the time that the animated cartoon was made in 1985, Patty had stopped appearing regularly in Peanuts and would not have been familiar to many viewers. For that reason, she was replaced by Sally Brown. When the stage musical was revived on Broadway in 1999, Sally Brown replaced Patty yet again.
Voice cast
Uncredited
Peppermint Patty, Franklin, 5, and Frieda appear, but are silent. Robert Towers, who voices Snoopy in this special, reprises his role from the 1967 Los Angeles cast of the stage musical.
Gallery
External links
Peanuts Animated Features
TV Specials
A Charlie Brown Christmas • Charlie Brown's All-Stars • It's the Great Pumpkin, Charlie Brown • You're in Love, Charlie Brown • He's Your Dog, Charlie Brown • It Was a Short Summer, Charlie Brown • Play It Again, Charlie Brown • You're Not Elected, Charlie Brown • There's No Time for Love, Charlie Brown • A Charlie Brown Thanksgiving • It's a Mystery, Charlie Brown • It's the Easter Beagle, Charlie Brown • Be My Valentine, Charlie Brown • You're a Good Sport, Charlie Brown • It's Arbor Day, Charlie Brown • It's Your First Kiss, Charlie Brown • What a Nightmare, Charlie Brown • You're the Greatest, Charlie Brown • She's a Good Skate, Charlie Brown • Life Is a Circus, Charlie Brown • It's Magic, Charlie Brown • Someday You'll Find Her, Charlie Brown • A Charlie Brown Celebration • Is This Goodbye, Charlie Brown? • It's an Adventure, Charlie Brown • What Have We Learned, Charlie Brown? • It's Flashbeagle, Charlie Brown • Snoopy's Getting Married, Charlie Brown • You're a Good Man, Charlie Brown • Happy New Year, Charlie Brown! • Snoopy!!! The Musical • It's the Girl in the Red Truck, Charlie Brown • Why, Charlie Brown, Why? • Snoopy's Reunion • It's Spring Training, Charlie Brown • It's Christmastime Again, Charlie Brown • You're in the Super Bowl, Charlie Brown • It Was My Best Birthday Ever, Charlie Brown • It's the Pied Piper, Charlie Brown • A Charlie Brown Valentine • Charlie Brown's Christmas Tales • Lucy Must Be Traded, Charlie Brown • I Want a Dog for Christmas, Charlie Brown • He's a Bully, Charlie Brown • Happiness Is a Warm Blanket, Charlie Brown • Snoopy Presents: For Auld Lang Syne • Snoopy Presents: It's the Small Things, Charlie Brown• Snoopy Presents: To Mom (and Dad), With Love • Snoopy Presents: Lucy's School
Movies
A Boy Named Charlie Brown • Snoopy, Come Home • Race for Your Life, Charlie Brown • Bon Voyage, Charlie Brown (And Don't Come Back!!) • The Peanuts Movie
The Charlie Brown and Snoopy Show
"Snoopy's Cat Fight" • "Snoopy: Team Manager" • "Linus and Lucy" • "Lucy vs. the World" • "Linus' Security Blanket" • "Snoopy: Man's Best Friend" • "Snoopy the Psychiatrist" • "You Can't Win, Charlie Brown" • "The Lost Ballpark" • "Snoopy's Football Career" • "Chaos in the Classroom" • "It's That Team Spirit, Charlie Brown" • "Lucy Loves Schroeder" • "Snoopy and the Giant" • "Snoopy's Brother Spike" • "Snoopy's Robot" • "Peppermint Patty's School Days" • "Sally's Sweet Babboo"
This Is America, Charlie Brown
"The Mayflower Voyagers" • "The Birth of the Constitution" • "The Wright Brothers at Kitty Hawk" • "The NASA Space Station" • "The Building of the Transcontinental Railroad" • "The Great Inventors" • "The Smithsonian and the Presidency" • "The Music and Heroes of America"
Snoopy in Space
"The Application" • "Training" • "The Graduation" • "Welcome to the ISS" • "I Never Promised You a Space Garden" • "Space Sleepwalking" • "The Journey on Orion" • "Crater Crash" • "Searching for Moon Rocks" • "You're a Good Moon, Charlie Brown" • "The Next Mission" • "Mars or Bust"
Others
Peanuts (2014 TV series) • Peanuts Motion Comics • The Snoopy Show